WeightControl.com Interview with:
Dr. Louis Aronne, MD, FACP
Chief Medical Officer, Intellihealth
Medical Director, Comprehensive Weight Control Center,
Weill Cornell Medicine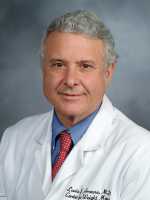 WeightControl.com: What is the background for the study "Effect of an Online Weight Management Program Integrated With Population Health Management on Weight Change: A Randomized Clinical Trial"?
Response: More than 70% of U.S. adults have overweight or obesity. Online programs promoting lifestyle change have had some success in helping people achieve and maintain weight loss, but study results have been variable, and these programs have not been widely implemented in primary care. We studied the effectiveness of an online program we have developed (Intellihealth, formerly known as BMIQ) in routine primary care practices, both alone and integrated with population health management (with participants receiving additional support and outreach from nonclinical staff). The study's objective was to determine whether a combined intervention integrating online weight management with population health management would increase weight loss at 12 months among primary care patients compared with the online program only and usual care.
The study, funded through an award from the Patient-Centered Outcomes Research Institute (PCORI), was carried out as a cluster randomized trial with 840 patients within the Brigham and Women's Hospital Primary Care Center of Excellence, a group of 15 primary care practices, between 2016 and 2019. Eligible participants had a scheduled primary care visit and were aged 20 to 70 years, had a body mass index between 27 and less than 40, and had a diagnosis of hypertension or type 2 diabetes.
Continue reading

"Intellihealth: Population Health Guidelines + Online Support Improves Weight Loss"