WeightControl.com Interview with:
Anat Yaskolka Meir RD Ph.D.
Post-doctoral fellow
Department of Epidemiology
Faculty of Health Sciences
Ben-Gurion University, Beer-Sheva, Israel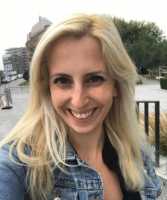 WeightControl.com: What is the background for this study? What are the main findings?
Response: In the past 15 years, Prof. Shai's group at the Ben Gurion University of the Negev has conducted several large-scale, long-term clinical trials among over 1000 participants. Results from our previous DIRECT, CASCADE, and CENTRAL trials indicated that the Mediterranean diet is superior to other diets in terms of reducing cardiometabolic risk (e.g., by achieving lower blood lipids levels). Moreover, specific plant components named "polyphenols" (secondary metabolites of plants with antioxidant properties) might associate with this beneficial effect observed. Following the conclusions from these trials, we designed the DIRECT PLUS trial, aimed to examine whether we can enhance the observed and known effect of the Mediterranean diet by adding specific polyphenol-rich food items. Specifically, we enriched the Mediterranean diet, naturally rich in polyphenols, by adding specific components: Mankai aquatic plant (as green shake), walnuts, and green tea, which provided additional 1240 mg polyphenols a day. We also instructed the participants to avoid red and processed meat.
The main finding from this study is that the green Mediterranean diet, the enhanced version of the Mediterranean diet, rich in walnuts, green tea, and Mankai aquatic plant and low in red/processed meat, was the most successful in liver fat reduction. This group showed the greatest reduction of hepatic fat (-39%), as compared to the traditional Mediterranean diet (-20%) and the healthy dietary guidelines (-12%). The results were significant after adjusting for weight loss (currently, the primary treatment for fatty liver). Moreover, the prevalence of non-alcoholic fatty liver diseases was reduced in the green group by 50%.
Last Updated on January 19, 2021 by weightcontrol