WeightControl.com Interview with:
Dr. Louis Aronne, MD, FACP
Chief Medical Officer, Intellihealth
Medical Director, Comprehensive Weight Control Center,
Weill Cornell Medicine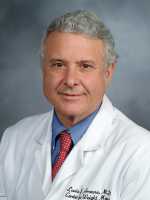 WeightControl.com: What is the background for the study "Effect of an Online Weight Management Program Integrated With Population Health Management on Weight Change: A Randomized Clinical Trial"?
Response: More than 70% of U.S. adults have overweight or obesity. Online programs promoting lifestyle change have had some success in helping people achieve and maintain weight loss, but study results have been variable, and these programs have not been widely implemented in primary care. We studied the effectiveness of an online program we have developed (Intellihealth, formerly known as BMIQ) in routine primary care practices, both alone and integrated with population health management (with participants receiving additional support and outreach from nonclinical staff). The study's objective was to determine whether a combined intervention integrating online weight management with population health management would increase weight loss at 12 months among primary care patients compared with the online program only and usual care.
The study, funded through an award from the Patient-Centered Outcomes Research Institute (PCORI), was carried out as a cluster randomized trial with 840 patients within the Brigham and Women's Hospital Primary Care Center of Excellence, a group of 15 primary care practices, between 2016 and 2019. Eligible participants had a scheduled primary care visit and were aged 20 to 70 years, had a body mass index between 27 and less than 40, and had a diagnosis of hypertension or type 2 diabetes.
WeightControl.com: Would you describe the weight loss study/program?
Response: Study participants were divided into three groups: the usual care group (n = 326), which received general information about weight management, including diet and physical activity, in the mail; the online program only group (n = 216), which participated in an online weight-loss program that included written and video-based educational materials, meal plans, activity trackers, and progress reporting features, along with a consultation with a registered dietician; and the combined intervention group (n = 298), which participated in the Intellihealth online program and also received weight-related population health management in the form of additional outreach and support from nonclinical staff members who monitored the participants' progress, answered questions and encouraged regular use of the online program.
Participants could access the Intellihealth program via computer, tablet or smartphone. The program was integrated with electronic health records, allowing the population health managers to enter notes, run reports or send messages to the participants' primary care physicians. The population health managers were members of the clinics' existing teams and had no specialized training in nutrition or weight counseling.

WeightControl.com: What are the main findings?
Response: At 12 months, 32.3% of patients in the combined intervention group had lost 5% or more of their body weight, compared to 14.9% in the usual care group, doubling the share who reached the important 5% weight loss milestone associated with a 50% reduction in the risk of developing type 2 diabetes. Use of the online program alone produced a 20.8% response of 5% weight loss or more, which was 40% greater than the usual care group. These results demonstrate that combining population health management with an online program can be more effective than traditional care or an online-only approach. At 18 months (a secondary outcome), the response rate was well maintained in the combined intervention group, at 31.3%.
WeightControl.com: What should readers take away from your report?
Response: While the absolute magnitude of weight loss may seem low, it is important to remember that even small amounts of weight loss, even 3%-5% of body weight, can provide significant health benefits to individuals with overweight and obesity. About one-third of the study participants in the combined intervention group — twice the share in the usual care group — lost at least 5% of their body weight, which has been demonstrated to reduce the risk of developing type 2 diabetes by 50%. Also, this trial examined a purely behavioral approach, without pharmacotherapy or any other advanced medical interventions. The combined intervention including medical evaluation and anti-obesity management that is delivered by our latest program, Intellihealth Evolve, has been shown to increase the response rate to 60% (see Sarah R. Barenbaum, MD; Sherin E. Mathews, MD; Katherine H. Saunders, MD; Guadalupe Minero, MPH; Elizabeth Mauer, MS; Louis J. Aronne, MD; Alpana P. Shukla, MD. Utility of BMIQ, a Novel Web-Based Weight Management Programme, at an Academic Weight Management Centre. Obes Sci Pract. 2019;6(2):134-138. doi:10.1002/osp4.393).
WeightControl.com: What recommendations do you have for future research as a result of this work?
Response: In addition to broadening the interventions included in the study, further research is needed to understand the generalizability and scalability of these findings to other institutions and in other populations. The durability of the results beyond 18 months should also be examined.
Any disclosures? My standard disclosures are as follows: I receive consulting fees from and serve on advisory boards for Jamieson Laboratories, Boehringer Ingelheim, Pfizer, Novo Nordisk, Real Appeal, Janssen Pharmaceuticals and Gelesis; receive research funding from Aspire Bariatrics, Allurion, Eisai, Eli Lilly, AstraZeneca, Gelesis, Janssen Pharmaceuticals and Novo Nordisk; have an equity interest in Intellihealth/BMIQ, ERX, Zafgen, Gelesis, MYOS and Jamieson Laboratories; and serve on the boards of directors of MYOS, Intellihealth/BMIQ and Jamieson Laboratories.
Citation:
Heather J. Baer, ScD; Ronen Rozenblum, PhD, MPH; Barbara A. De La Cruz, BA; E. John Orav, PhD; Matthew Wien, BS; Nyryan V. Nolido, MA; Kristina Metzler, MS; Katherine D. McManus, MS; Florencia Halperin, MD; Louis J. Aronne, MD; Guadalupe Minero, MPH; Jason P. Block, MD, MPH; David W. Bates, MD, MSc. Effect of an Online Weight Management Program Integrated With Population Health Management on Weight Change: A Randomized Clinical Trial. JAMA. 2020;324(17):1737-1746. doi:10.1001/jama.2020.18977
The information on WeightControl.com is provided for educational purposes only, and is in no way intended to diagnose, cure, endorse or treat any medical or other condition. Always seek the advice of your physician or other qualified health and ask your doctor any questions you may have regarding a medical condition. In addition to all other limitations and disclaimers in this agreement, service provider and its third party providers disclaim any liability or loss in connection with the content provided on this website.