WeightControl.com Interview with:
Britt Burton–Freeman, Ph.D
Director of the Center for Nutrition Research at IFSH
Associate Professor, Food Science and Nutrition
Illinois Institute of Technology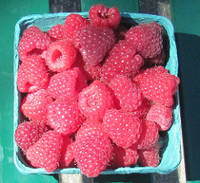 WeightControl.com: What is the background for this study? What are the main findings?
Response: Red raspberries contain appreciable amounts of dietary fiber and a variety of other nutrients, such as vitamin C, vitamin K, magnesium and potassium. They also contain phytochemicals, such as polyphenols with documented biological activity suggesting metabolic benefits. However, there is limited data assessing the potential effects of red raspberries in humans, particularly in those people who might benefit the most, ie., people at risk for diabetes mellitus.
We investigated the health benefits of consuming 1-2 cups of red raspberries in a group of people who were overweight/obesity and had prediabetes and insulin resistance.
The results showed that when a breakfast meal was consumed with raspberries, less insulin was needed to manage blood sugar compared with a meal with no raspberries. Moreover, when two cups of red raspberries were included in the breakfast meal, blood sugar concentrations were significantly lower compared to consuming breakfast without raspberries.
WeightControl.com: What should readers take away from your report?
Response: Our finding suggests that simple inclusion of red raspberries in meals can help people with prediabetes and insulin resistance by reducing the post-meal glycemic burden. These people are at significant risk of converting to type 2 diabetes, which can be reduced by managing post-meal metabolic responses.
WeightControl.com: What recommendations do you have for future research as a result of this study?
Response: Studies in both humans and animals have demonstrated that impaired insulin signaling is associated with development of multiple other chronic diseases and conditions. Future research should examine the long-term effects of red raspberry intake and their extended benefits as it relates to improved insulin action.
WeightControl.com: Is there anything else you would like to add? Any disclosures?
Response: The pre-disease state, such as pre-diabetes, is an important warning sign to take action to reduce risk of converting to type 2 diabetes. Modification of diet is a critical component of the recommended lifestyle changes for individuals identified with pre-diabetes. The American College of Endocrinology and the American Association of Endocrinologists suggest providing patients information about foods that promote health vs promote metabolic disruption, and provide information on specific foods, meal planning, grocery shopping and dining out strategies. Our research provides the type of data needed for health practitioners to recommend specific foods that can aid in improving postprandial insulin action and glycemic control.
Citation for: Attenuation of Postmeal Metabolic Indices with Red Raspberries in Individuals at Risk for Diabetes: A Randomized Controlled Trial
Di Xiao, Lanjun Zhu, Indika Edirisinghe, Jawed Fareed, Yevgeniy Brailovsky, Britt Burton‐Freeman
First published: 14 February 2019
The information on WeightControl.com is provided for educational purposes only, and is in no way intended to diagnose, cure, or treat any medical or other condition. Always seek the advice of your physician or other qualified health and ask your doctor any questions you may have regarding a medical condition. In addition to all other limitations and disclaimers in this agreement, service provider and its third party providers disclaim any liability or loss in connection with the content provided on this website.