WeightControl.com: What is the mission of Intellihealth?
Response: The mission of Intellihealth is transforming healthcare to help millions of people live healthier, happier lives through the medical treatment of obesity. Almost half of the US population has obesity but less than 2% are able to get treatment. The lack of available treatment and the stigmatized perception of obesity is what we aim to eliminate.
WeightControl.com: What topics are discussed during the Weight Matters podcast?
Response: Almost two-thirds of the U.S. population is overweight or suffers from obesity, yet the growing epidemic is still largely misunderstood. In the Weight Matters podcast, Dr. Katherine Saunders and I will address the many misconceptions associated with weight and how it impacts our broader health. With the help of thought leaders and other medical experts, we unpack the science behind the root causes and conditions that stem from obesity, one of the leading drivers of healthcare costs, to shed some light on why weight truly matters.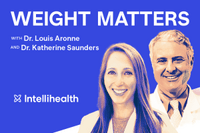 New episodes will be released biweekly and will address topics such as the stigma surrounding obesity, the relationship between weight and cancer, the impact of weight on orthopedic surgery outcomes, the predatory diet industry, and the increased urgency of mitigating obesity-related population risks in light of the strong correlation between excess weight and negative COVID-19 outcomes.
For more information on guests and episodes, visit www.intellihealth.co/podcast.
WeightControl.com: What else would you like to add?
Response: Obesity is a complex disease that is a tipping point to a number of health conditions, and stubbornly resistant to treatment through the traditional interventions of diet and exercise alone. To shed more light on this multifaceted problem, we've spoken with a diverse lineup of compelling experts. Our podcast's guests speak to the best of medical science, and, while healthcare decision makers are the primary audience for these topics, the podcast is accessible to a wide audience. Anyone interested in learning more about the physiology of weight gain and how obesity affects us on both a personal and societal level needs to hear these thought-provoking exchanges.
[last-modified]
The information on WeightControl.com is provided for educational purposes only, and is in no way intended to diagnose, cure, or treat any medical or other condition. Always seek the advice of your physician or other qualified health and ask your doctor any questions you may have regarding a medical condition. In addition to all other limitations and disclaimers in this agreement, service provider and its third party providers disclaim any liability or loss in connection with the content provided on this website.