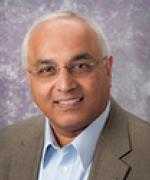 WeightControl.com Interview with:
Vinod K Rustgi, MD, MBA
Professor of Medicine
Clinical Director of Hepatology
Director, Center for Liver Diseases and Liver Masses
Professor of Epidemiology
Professor of Pathology and Laboratory Medicine
New Brunswick, NJ 08901
WeightControl.com: What is the background for this study? What are the main findings?
Response: ​Obesity is a burgeoning problem in the USA and globally. It is estimated that over $100 billion are spent in healthcare expenditures each year on those patients with fatty liver disease related to obesity-induced problems.
Lifestyle modification is very difficult to achieve on a sustained basis. Insurance companies have strict criteria for bariatric surgery. Our study of a database of over 100 million lives spanning the years of 2007 to 2017 showed a marked reduction in all malignancies after bariatric surgery and particularly in obesity-related cancers such as colorectal, esophageal, pancreatic, ovarian, uterine, postmenopausal breast and kidney cancers.
Continue reading

"Reduction in Cancer Risk Following Bariatric Surgery"