WeightControl.com: What are the main findings?
Response: We report that if a person eats their largest meal early or late in the day, it does not affect the way their body metabolizes calories and weight loss was similar.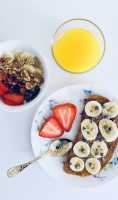 WeightControl.com: What should readers take away from your report?
Response: However, people who ate their largest meal in the morning did report feeling less hungry later in the day, which could foster easier weight loss in the real world.


WeightControl.com: What recommendations do you have for future research as a result of this work?
Response: We plan to expand this research into how the time of day affects metabolism by conducting studies similar to the one described here in shift workers. It's possible these individuals could have different metabolic responses due to the disruption of their circadian rhythms.
No disclosures
Citation:
Leonie C. Ruddick-Collins, Peter J. Morgan, Claire L. Fyfe, Joao A.N. Filipe, Graham W. Horgan, Klaas R. Westerterp, Jonathan D. Johnston, Alexandra M. Johnstone. Timing of daily calorie loading affects appetite and hunger responses without changes in energy metabolism in healthy subjects with obesity. Cell Metabolism, 2022; DOI: 10.1016/j.cmet.2022.08.001
The information on WeightControl.com is provided for educational purposes only, and is in no way intended to diagnose, cure, or treat any medical or other condition. Always seek the advice of your physician or other qualified health and ask your doctor any questions you may have regarding a medical condition. In addition to all other limitations and disclaimers in this agreement, service provider and its third party providers disclaim any liability or loss in connection with the content provided on this website.