WeightControl.com Interview with:
Anna H. Grummon PhD , Postdoctoral Fellow
Department of Nutrition
Harvard TH Chan School of Public Health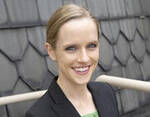 WeightControl.com: What is the background for this study? What are the main findings?
Response: As of 2018, large chain restaurants in the US are required by law to display calorie information on their menus. A number of researchers have looked at how consumers respond to the new calorie labels. What was not yet known was how the industry responded to the calorie labeling law. Our study is the first to investigate whether nationwide rollout of the calorie labeling law spurred restaurants to change the types of foods they offer. We found that the rollout of the calorie labels appeared to prompt restaurants to introduce lower-calorie items to their menus, but did not spur changes to existing menu items.
---
WeightControl.com: What should readers take away from your report?
Response: Our research suggests that restaurants are bringing lower-calorie options to their menus now that they are required to display calorie labels on their menus. These new options could help Americans find foods that meet their health goals when they get take-out or dine at restaurants.
At the same time, existing menu items did not change after the labels were rolled out. This suggests that additional policy changes might be needed to nudge restaurants to make these existing items healthier. The calorie labeling law is important in providing consumers with information about menu items that was hard to find previously. Future policies can build on this success.
WeightControl.com: What recommendations do you have for future research as a result of this work?
Response: Our study examined restaurant menus, not what consumers buy or eat. So we don't yet know how these changes to menus will affect what consumers eat and drink at restaurants, or ultimately how this policy will affect health outcomes. Future studies can examine how consumers respond to both calorie labels and to changes in the types of items sold by restaurants.
WeightControl.com: Is there anything else you would like to add?
Response: Mandatory labelling may have spurred restaurants to introduce new, lower calorie items to their menus. These calorie labels also allow consumers to easily view the calorie count of their meal, information which was difficult to find before the law.
No disclosures.
Citation:
Grummon AH, Petimar J, Soto MJ, et al. Changes in Calorie Content of Menu Items at Large Chain Restaurants After Implementation of Calorie Labels. JAMA Netw Open. 2021;4(12):e2141353. doi:10.1001/jamanetworkopen.2021.41353
The information on WeightControl.com is provided for educational purposes only, and is in no way intended to diagnose, cure, or treat any medical or other condition. Always seek the advice of your physician or other qualified health and ask your doctor any questions you may have regarding a medical condition. In addition to all other limitations and disclaimers in this agreement, service provider and its third party providers disclaim any liability or loss in connection with the content provided on this website.